Musings on the Metamorphosis of a Psychotherapist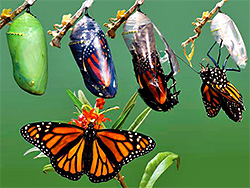 Monarch Power
"We delight in the beauty of the butterfly, but rarely admit the changes it has gone through to achieve that beauty."
~ maya angelou
Midwife to Others' Metamorphoses:
We don't morph in a vacuum, but rather absorb little scraps of others and stitch them instinctively like threads into our own cells and wings. There are so many former and current clients now whose gestures, expressions, gazes, and perspectives live inside me that I feel like I do contain the poet Walt Whitman's notion of internal psychological "multitudes". This inner patchwork was created over the three decades of my continuously working in human services. The first decade I worked in the field of domestic violence, counseled abused/neglected children and adolescents in residential care; provided psychotherapy as an intern to families and teens in a consultation center as well as to adults, couples and groups in a private holistic counseling center.
Upon receiving my graduate degree at age thirty in clinical mental health counseling, I started my own holistic psychotherapy private practice. For the past two decades, I have been able to live out my youthful dream of engaging in depth psychotherapy with adults who often present with complex trauma histories of childhood abuse and neglect. I have had the great privilege of forming profoundly moving long term relationships with an extravagant diversity of beautiful and fascinating women and men from so many walks of life. I am so fortunate to carry on my dream free from the interpersonal dysfunction and administrative hassles one often finds working in human service agencies. I have been able to conduct psychotherapy in the way I see as right: integrative, deeply relational, long term, intensive and protected from the cultural, sociopolitical and medical model illusions of the quick and superficial fix.
Many children, adolescents, and adults have told me how they feel forever changed through our work together and how they "carry me inside" them as they moved on in life. I am uncertain whether they have known the extent to which I have been inspired and impacted by my personal experiences with them. Carl Jung once wrote about the alchemical process that happens during effective psychotherapy. He explained that during this unique human encounter, both helper and helpee are irrevocably transformed. Each individual with whom I have been honored to share a therapeutic relationship has been a complex and evolving universe unto him or herself, a universe that I have been gradually allowed to enter and, to some extent, to intimately share and know. I am forever transformed because of you and you and you.
"Gabriel": Twenty-five years later, I see you clear as day: You are 11 years old with moist fawn-like eyes and lashes almost as long as butterfly wings. We are busily absorbed in expressive arts and play therapy. You are drawing pictures depicting blood, knives, infernos, a mother you tried to protect from violence.. For awhile you were very distracted and agitated, pacing back and forth across the old rust colored carpet. Gradually you grew more quiet as you rearranged your creative masterpieces thoughtfully on the floor. You once told me you hoped to grow up to be a firefighter and save people, and that you wanted to be a very good husband and dad. At the end, you held my hand to say goodbye as my internship was ending. I struggled to fight back tears as I knew I would likely never see you again. You looked tenderly in my eyes and stated: "we will always have the good memories of being together; time cannot take them away". Two and a half decades later your words ring true for me as I hope they still do for you. Sometimes the youngest of clients teach us a wisdom closest to true.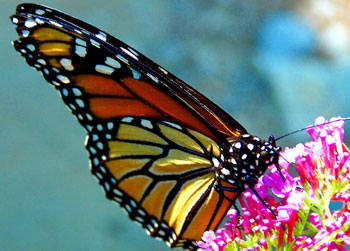 N Ditz
"He is beautiful now, and shivers into the air
as if he has always known how,
who crawled and crawled, all summer."
~ Mary Oliver
"Jessica": You have been with me now for 15 years. Your raven hair has grown shorter than longer than medium length with strands of grey. You have given birth; you have fought to save a marriage; you have divorced; you have loved and partnered again, this time happily. You once sat hunched over, curled in the clutch of despair. You realized what your family of origin was and was not. You rose out of your fog. You screamed and cried and used up entire Kleenex boxes in a single session. You smile and laugh with your whole body now. You look directly in my eyes and confidently disagree. You no longer sit on the edge of your chair. We have spoken at length of dreams, memories and fears. You tell me your inner critic has been morphing into a kind of friend. Sometimes you are sad but sadness is no longer scary or endless. Mostly you are learning the contours of contentment. You wear it like a soft, broken in sweatshirt. You say you feel mostly alive now. You recognize your own face, speak with your own voice, and finally know your own name.
I have been deeply touched and changed in my very Core by each remarkable soul with whom I have journeyed as a psychotherapist. I experience in my very bones that every life I help hold and support is precious, irreplaceable and utterly worthy of the highest quality of competent and compassionate care. I never forget my enormous responsibility as a therapist to keep on growing on every level of my being each day: to continue unfurling the petals of my awareness, knowledge, empathy and presence. Becoming a depth holistic psychotherapist is a sacred calling, a continuous metamorphosis, and the ongoing fulfillment of my childhood promise.
*personal details altered to protect the identity of these clients